UNFORTUNATELY CRYPTOLOGIC NO LONGER OFFER THEIR KENO GAME SO YOU WON'T FIND IT AT ANY OF THEIR CASINOS.
Overall payouts on the Keno game are low compared to most online keno pay schedules. But to make up for that some of the Cryptologic casinos have colossal jackpots. Some even have a PROGRESSIVE JACKPOT, which starts at $50k. So if you're a jackpot hunter the Cryptologic casinos have to be your choice.
Cryptologic Keno Games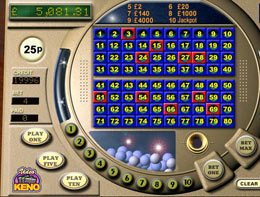 Format: Most Cryptologic casinos are download only. A few also have non-download Java games, though this does not include keno.
Keno play: The Keno game is unusual in that some casinos offer a Progressive Jackpot on 8,9 & 10 spots, starting at $50k.
Keno payout rate: 75% for the fixed jackpot. It's difficult to assess payback on the progressive jackpot, but overall it too is around 75% jackpot for a $1 stake $50,000 fixed jackpot.
Stakes: betting limits vary between casinos
Game play: 10-spot picks
About Cryptologic
Well established as a leading provider of online casino software, Cryptologic powers some of the biggest and best names in online casinos. It is easy to see why, with useful player features and good quality graphics and sound.
Cryptologic is a publicly traded company on the Toronto Stock Exchange as well as NASDAQ.