Keno "Way tickets" basically show several bets which are made by combining a given set of numbers in all possible ways.
They are really just a convenient method of playing several bets at the same time.
Way Tickets are more complex to complete then straight tickets. Here's an example:
Say you pick 5 pairs of numbers. You circle each of these pairs. What you want to do is bet on every possible 6-spot that can be formed by combining your chosen pairs. There are 10 possible ways to form 6-spots out of your 5 pairs. You decide to place $1. That's $10 in total.
So, you write on the ticket: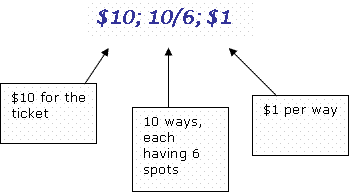 Alternatively you might also want to play the 10-spot that would be formed by using all your 5 pairs. That ticket would be marked: